Garlic and Sapphires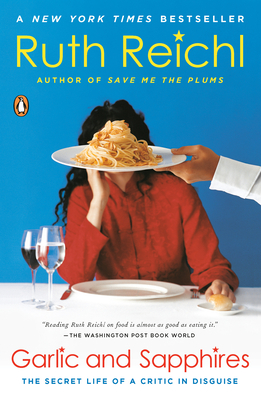 Garlic and Sapphires
The Secret Life of a Critic in Disguise
Penguin Books, Paperback, 9780143036616, 333pp.
Publication Date: March 2006
* Individual store prices may vary.
Shop Local
Enter your zip code below to find indies closest to you.
Description
Ruth Reichl's bestselling memoir of her time as an undercover restaurant critic for "The New York Times"
Ruth Reichl, world-renowned food critic and former editor in chief of "Gourmet" magazine, knows a thing or two about food. She also knows that as the most important food critic in the country, you need to be anonymous when reviewing some of the most high-profile establishments in the biggest restaurant town in the world--a charge she took very seriously, taking on the guise of a series of eccentric personalities. In "Garlic and Sapphires," Reichl reveals the comic absurdity, artifice, and excellence to be found in the sumptuously appointed stages of the epicurean world and gives us--along with some of her favorite recipes and reviews--her remarkable reflections on how one's outer appearance can influence one's inner character, expectations, and appetites, not to mention the quality of service one receives.
"As a memento of her time at the "Times" she gives us this wonderful book, which is funny--at times laugh-out-loud funny--and smart and wise." --Jonathan Yardley, "The Washington Post.
About the Author
Ruth Reichl joined Gourmet as Editor in Chief in April 1999. She came to the magazine from The New York Times, where she had been the restaurant critic since 1993. As chef and co-owner of The Swallow Restaurant from 1974 to 1977, she played a part in the culinary revolution that took place in Berkeley, California. In the years that followed, she served as restaurant critic for New West and California magazines. In 1984, she became restaurant critic of the Los Angeles Times, where she was also named food editor. Reichl began writing about food in 1972, when she published a book called Mmmmm: A Feastiary. Since then, she has authored the critically acclaimed, best-selling memoirs, Tender at the Bone and Comfort Me With Apples. She is the editor of The Modern Library Cooking Series, released in March 2001. She has also written the introductions for Nancy Silverton s Breads from the La Brea Bakery: Recipes for the Connoisseur (1996) and Measure of Her Powers: An M.F.K. Fisher Reader (2000). She is currently working on Remembrance of Things Paris, The Gourmet Cookbook, and a third memoir. Reichl has been honored with three James Beard Awards (two for restaurant criticism, in 1996 and 1998, and one for journalism, in 1994) and with numerous awards from the Association of American Food Journalists. She holds a B.A. and an M.A. in the History of Art from the University of Michigan, and lives in New York City with her husband, Michael Singer, a television news producer, and their son.
Praise For Garlic and Sapphires…
"This wonderful book is funny—at times laugh-out-loud funny—and smart and wise." —The Washington Post



"Reichl is so gifted . . . the reader remains hungry for more." —USA Today



"Expansive and funny." —Entertainment Weekly