For You Mom, Finally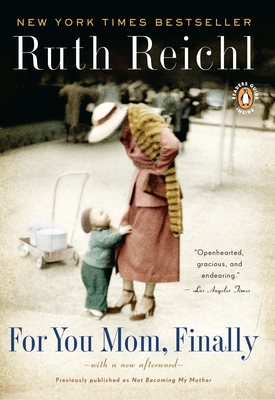 For You Mom, Finally
Penguin Books, Paperback, 9780143117346, 120pp.
Publication Date: April 6, 2010
* Individual store prices may vary.
Shop Local
Enter your zip code below to find indies closest to you.
Description
Bestselling author Ruth Reichl examines her mother's life-and gives voice to the unarticulated truths of a generation of exceptional women
A former "New York Times" restaurant critic, editor in chief of "Gourmet," and the author of three bestselling memoirs, Ruth Reichl is a beloved cultural figure in the food world and beyond. "For You, Mom. Finally." is her openhearted investigation of the life of a woman she realizes she never really knew-her mother. Through letters and diaries-and a new afterword relating the wisdom she's gained after sharing her story-Reichl confronts the transition her mother made from a hopeful young woman to an increasingly unhappy older one and recognizes the huge sacrifices made to ensure that her daughter's life would not be as disappointing as her own.
About the Author
Ruth Reichl joined Gourmet as Editor in Chief in April 1999. She came to the magazine from The New York Times, where she had been the restaurant critic since 1993. As chef and co-owner of The Swallow Restaurant from 1974 to 1977, she played a part in the culinary revolution that took place in Berkeley, California. In the years that followed, she served as restaurant critic for New West and California magazines. In 1984, she became restaurant critic of the Los Angeles Times, where she was also named food editor. Reichl began writing about food in 1972, when she published a book called Mmmmm: A Feastiary. Since then, she has authored the critically acclaimed, best-selling memoirs, Tender at the Bone and Comfort Me With Apples. She is the editor of The Modern Library Cooking Series, released in March 2001. She has also written the introductions for Nancy Silverton s Breads from the La Brea Bakery: Recipes for the Connoisseur (1996) and Measure of Her Powers: An M.F.K. Fisher Reader (2000). She is currently working on Remembrance of Things Paris, The Gourmet Cookbook, and a third memoir. Reichl has been honored with three James Beard Awards (two for restaurant criticism, in 1996 and 1998, and one for journalism, in 1994) and with numerous awards from the Association of American Food Journalists. She holds a B.A. and an M.A. in the History of Art from the University of Michigan, and lives in New York City with her husband, Michael Singer, a television news producer, and their son.