Tender at the Bone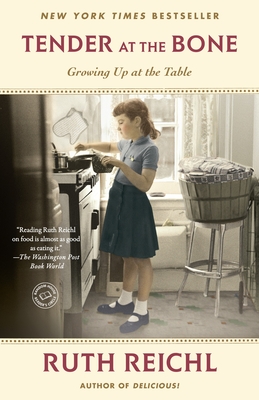 Tender at the Bone
Growing Up at the Table
Random House Trade, Paperback, 9780812981117, 289pp.
Publication Date: May 25, 2010
* Individual store prices may vary.
Shop Local
Enter your zip code below to find indies closest to you.
Description
"NEW YORK TIMES "BESTSELLER
At an early age, Ruth Reichl discovered that "food could be a way of making sense of the world. . . . If you watched people as they ate, you could find out who they were." Her deliciously crafted memoir, Tender at the Bone, is the story of a life determined, enhanced, and defined in equal measure by a passion for food, unforgettable people, and the love of tales well told. Beginning with Reichl's mother, the notorious food-poisoner known as the Queen of Mold, Reichl introduces us to the fascinating characters who shaped her world and her tastes, from the gourmand Monsieur du Croix, who served Reichl her first souffle, to those at her politically correct table in Berkeley who championed the organic food revolution in the 1970s. Spiced with Reichl's infectious humor and sprinkled with her favorite recipes, Tender at the Bone is a witty and compelling chronicle of a culinary sensualist's coming-of-age.
About the Author
Ruth Reichl joined Gourmet as Editor in Chief in April 1999. She came to the magazine from The New York Times, where she had been the restaurant critic since 1993. As chef and co-owner of The Swallow Restaurant from 1974 to 1977, she played a part in the culinary revolution that took place in Berkeley, California. In the years that followed, she served as restaurant critic for New West and California magazines. In 1984, she became restaurant critic of the Los Angeles Times, where she was also named food editor. Reichl began writing about food in 1972, when she published a book called Mmmmm: A Feastiary. Since then, she has authored the critically acclaimed, best-selling memoirs, Tender at the Bone and Comfort Me With Apples. She is the editor of The Modern Library Cooking Series, released in March 2001. She has also written the introductions for Nancy Silverton s Breads from the La Brea Bakery: Recipes for the Connoisseur (1996) and Measure of Her Powers: An M.F.K. Fisher Reader (2000). She is currently working on Remembrance of Things Paris, The Gourmet Cookbook, and a third memoir. Reichl has been honored with three James Beard Awards (two for restaurant criticism, in 1996 and 1998, and one for journalism, in 1994) and with numerous awards from the Association of American Food Journalists. She holds a B.A. and an M.A. in the History of Art from the University of Michigan, and lives in New York City with her husband, Michael Singer, a television news producer, and their son.
Praise For Tender at the Bone…
"Reading Ruth Reichl on food is almost as good as eating it."—Washington Post Book World
 
"An absolute delight to read...How lucky we are that [Ruth Reichl] had the courage to follow her appetite."—Newsday
 
"A poignant, yet hilarious, collection of stories about people [Reichl] has known and loved, and who, knowingly or unknowingly, steered her on the path to fulfill her destiny as one of the world's leading food writers."—Chicago Sun-Times
 
"While all good food writers are humorous...few are so riotously, effortlessly entertaining as Ruth Reichl."—New York Times Book Review
 
"A savory memoir of [Reichl's] apprentice years...Reichl describes [her] experiences with infectious humor...The descriptions of each sublime taste are mouthwateringly precise...A perfectly balanced stew of memories."—Kirkus Reviews